Tips for Outdoor Christmas Light Installation
Outdoor Christmas light installation has become a popular trend in the past few years. People are starting to install lights outside their homes, on trees and even around the entire property to get into the Christmas spirit. While this can be a fun project to do with family and friends, it can also be a daunting task. Here are some tips to help make the installation process easier.
First, it is important to create a plan for where the lights will go. You can start by mapping out the areas that you want to cover with lights and then plan accordingly. Make sure to measure properly so you know exactly how many lights are needed. 

Second, purchase extra supplies such as extension cords and surge protectors in case more are needed during installation. It's also a good idea to buy weatherproof outdoor lights to prevent accidental short-circuiting caused by rain or snow. 

Third, use command hooks or plastic clips instead of nails when hanging the lights outdoors. Not only do they make the process easier, but you'll have an easier time removing them once Christmas is over. 

Fourth, check the connections to make sure that they are secure and won't come loose. Loose connections can cause shorts or even a fire if not fixed properly. 

Finally, use timers or motion sensors so you don't have to manually turn the lights on each night. This will also help save electricity and money on your energy bill. 
With a little bit of planning and preparation, anyone can install outdoor Christmas lights without too much hassle. Follow these tips for a successful installation this holiday season!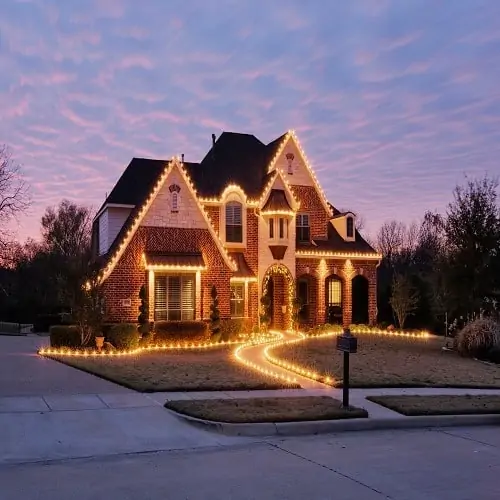 Installing outdoor Christmas lights can bring a great sense of joy and holiday cheer to the entire family. There are numerous benefits that come with setting up these festive decorations, especially when done correctly. 
The most obvious benefit of outdoor Christmas lights is their ability to brighten up any area and create a lively atmosphere. The twinkling lights give off a unique festive sparkle that can be seen from far away and will definitely attract attention from your neighbors and passersby. Having a well-lit home during the holidays can also help improve your neighborhood by providing more visibility for pedestrians and drivers alike. 
In addition, installing outdoor Christmas lights can be a great way to save money on energy bills since you won't have to turn on your indoor lights as often if your home is brightly lit by the decorations outdoors. This also makes it easier to conserve energy since you don't need to constantly turn on the power switch or plug them in each day. Moreover, LED lights use very little electricity compared to incandescent light bulbs, so they are more cost-effective in the long run. 
Furthermore, many people install outdoor Christmas lights for safety reasons as well. Having extra lighting outside can make it easier to identify intruders while also making it harder for criminals to hide in dark corners or alleys near your property. Ultimately, this provides an extra layer of security that could potentially deter criminal activity in the area. 
Finally, having outdoor Christmas lights installed at home is simply fun! It's a great way to show off your creative ideas and express yourself by selecting different colors and designs that appeal to you most. It also helps make any occasion special whether you're celebrating Christmas or just throwing a party – everyone loves colorful decorations! 
Overall, there are numerous benefits associated with installing outdoor Christmas lights – from enhancing the aesthetic feel of an area to providing extra security and cost savings on energy bills. With proper planning and installation techniques, anyone can enjoy these benefits when adding festive decorations outside their homes this year!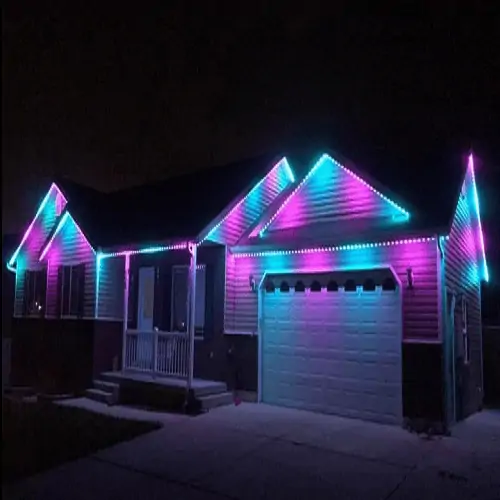 575 UT-198, Salem, UT 84653
(801) 380-6277